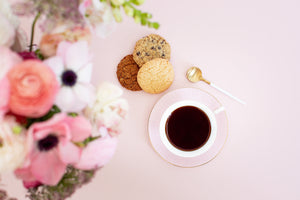 ABOUT US
Mamamac's is a small bakery in the heart of the beautiful Ceres valley.  At Mamamac's we offer you a range of delicious biscuits and rusks baked the old fashioned way – with quality ingredients, patience and care. 
Here we laugh often, love our team to bits and enjoy many a memorable moments over a warm cup of tea.  At the core of what we do are the hands and hearts that make Mamamac's possible.  Supporting us means we get to create employment and support over 20 families from the Witzenberg Valley. 
Thank you for every purchase made and every rusk dipped.
BISCUITS
Traditional, family recipes that have been perfected over time; have no added preservatives and are hand cut and rolled by hand to this very day.
Shop Biscuits
RUSKS
Perfected family recipes that's been passed down generations. We bake & break by hand and are 100% confident that no morning should start without a little sip & dip!
Shop Rusks
FALALALA
Looking for a quick, easy (and delicious!) gift? Look no further! Our new premium gifting collection has 'treat yourself' written all over them and makes the perfect gift for family & friends.
GET FESTIVE